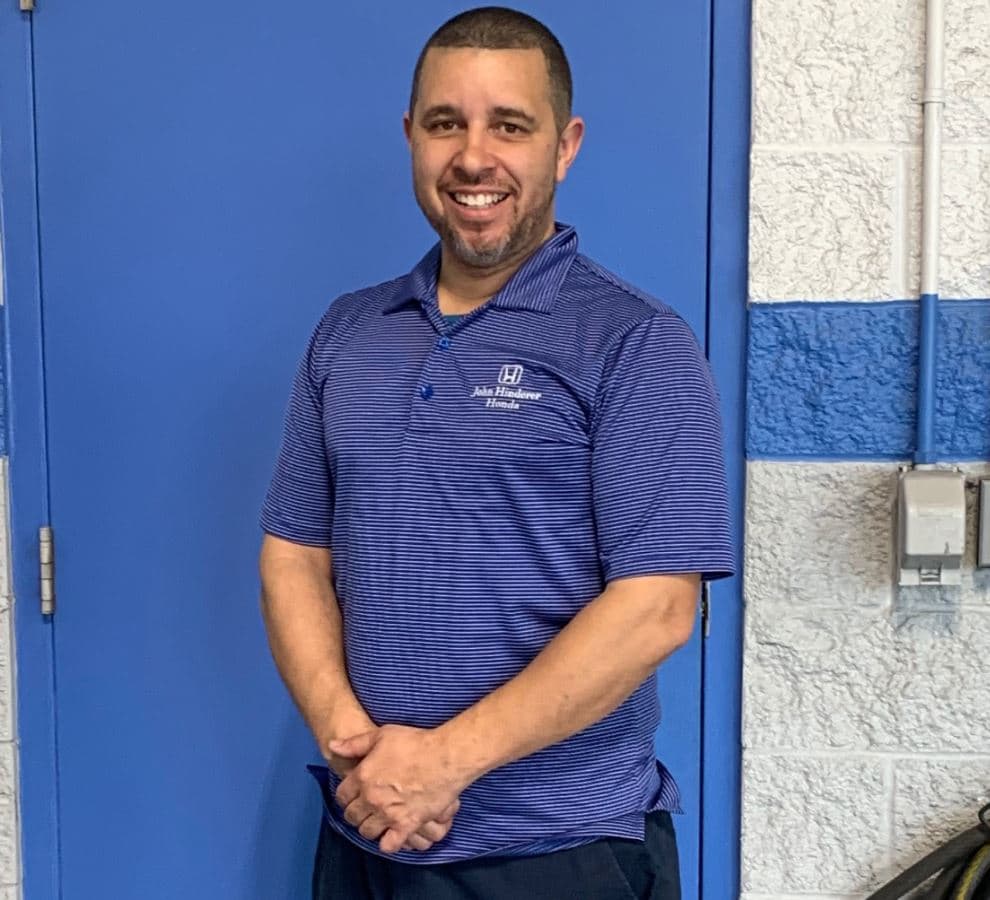 Recognized For:
always working hard! Working on his days and going above and beyond. James will make masks for anyone who asks. He is always sanitizing the store in his free time. James always come to work with a great attitude. 
What is your role here at John Hinderer Honda?
Pre-delivery inspections and installation of Honda Automotive enhancement accessories
What is your favorite thing about working here?
Genuinely feel valued by the management team and the great teamwork among all the coworkers
Proudest moment at the dealership to date?
receiving this award
What do you find to be the most challenging aspect of your work?
The wide range of skills required to remain proficient at the various tasks
If you were any animal what would you be and why?
Owl - they are wise and patient 
What hobbies do you have outside of work?
photography and videography
Favorite travel spot?
where is less important to me, as long as it gives new experiences with family
Random fun facts?
Sloths can hold their breath longer than dolphins can 
Hours
Monday

9:00am - 9:00pm

Tuesday

9:00am - 9:00pm

Wednesday

9:00am - 9:00pm

Thursday

9:00am - 9:00pm

Friday

9:00am - 6:00pm

Saturday

9:00am - 5:00pm

Sunday

12:00pm - 5:00pm
See All Department Hours
Dealership Hours
Monday

9:00am - 9:00pm

Tuesday

9:00am - 9:00pm

Wednesday

9:00am - 9:00pm

Thursday

9:00am - 9:00pm

Friday

9:00am - 6:00pm

Saturday

9:00am - 5:00pm

Sunday

12:00pm - 5:00pm
Parts Hours
Monday

7:00am - 9:00pm

Tuesday

7:00am - 9:00pm

Wednesday

7:00am - 9:00pm

Thursday

7:00am - 9:00pm

Friday

7:00am - 6:00pm

Saturday

8:00am - 5:00pm

Sunday

12:00pm - 5:00pm
Service Hours
Monday

7:00am - 9:00pm

Tuesday

7:00am - 9:00pm

Wednesday

7:00am - 9:00pm

Thursday

7:00am - 9:00pm

Friday

7:00am - 6:00pm

Saturday

8:00am - 5:00pm

Sunday

12:00pm - 5:00pm
Body Shop Hours
Monday

7:00am - 7:00pm

Tuesday

7:00am - 7:00pm

Wednesday

7:00am - 7:00pm

Thursday

7:00am - 7:00pm

Friday

8:00am - 6:00pm

Saturday

9:00am - 1:00pm

Sunday

Closed